The Amherstburg Freedom Museum is focused on providing educational programming to young children and adults alike, in an effort to deliver programming that is beneficial to the advancement of education. The museum is strengthened by its core educational programming, which is offered year-round, and assists in providing a greater understanding of African Canadian and Underground Railroad history.
All educational programs are informative and interactive, and approximately 90 minutes in length, which connect heritage and cultural life in Essex County. Programs include a guided tour of both historic buildings, an interactive scavenger hunt for students, and a 20-minute video which is also available in French, and subtitles for the hearing impaired.
The museum offers both guided and self-guided tours for walk-in visitors and tour groups on the topics of African Canadian history and the Underground Railroad, including the Museum's permanent exhibit, the Nazrey African Methodist Episcopal Church (a National Historic Site), and the Taylor Log Cabin.
Presentations on the topics of African Canadian history and the Underground Railroad are offered to groups, schools, clubs, societies, retirement homes and other non-profit community organizations.
The museum holds several annual events featuring cultural programming, including Ribs & Ragtime, Emancipation Celebrations, Black History Month programming, and Christmas at the Museum.
The museum offers other special events and programming. The museum has previously held book signings, conferences, festivals, museum milestone celebrations etc. For example, in October of 2017 we hosted the Amherstburg Freedom Summit which welcomed high school students from throughout Essex County. It was at the Summit that students from minority groups discussed not only the issues that affect them on a daily basis, but also how to create solutions to these challenges.
A prevailing suggestion was a mentorship program and speaker series, which is why we have created the Freedom Achievers Program in 2019. Our initiative includes a mentoring program that recruits successful achievers as mentors in professional fields such as First Responders, S.T.E.M., Arts & Entertainment, Education, Legal, Medical, Business & Finance. The mentoring sessions will provide insight into career options and actively engage with mentees. We are also hosting a High-Profile Speakers Series called "Achieving Freedom in the 21st Century" that welcomes diverse high-profile community builders to discuss the challenges they faced and how they challenged issues such as racism, gender inequality and homophobia to create positive change.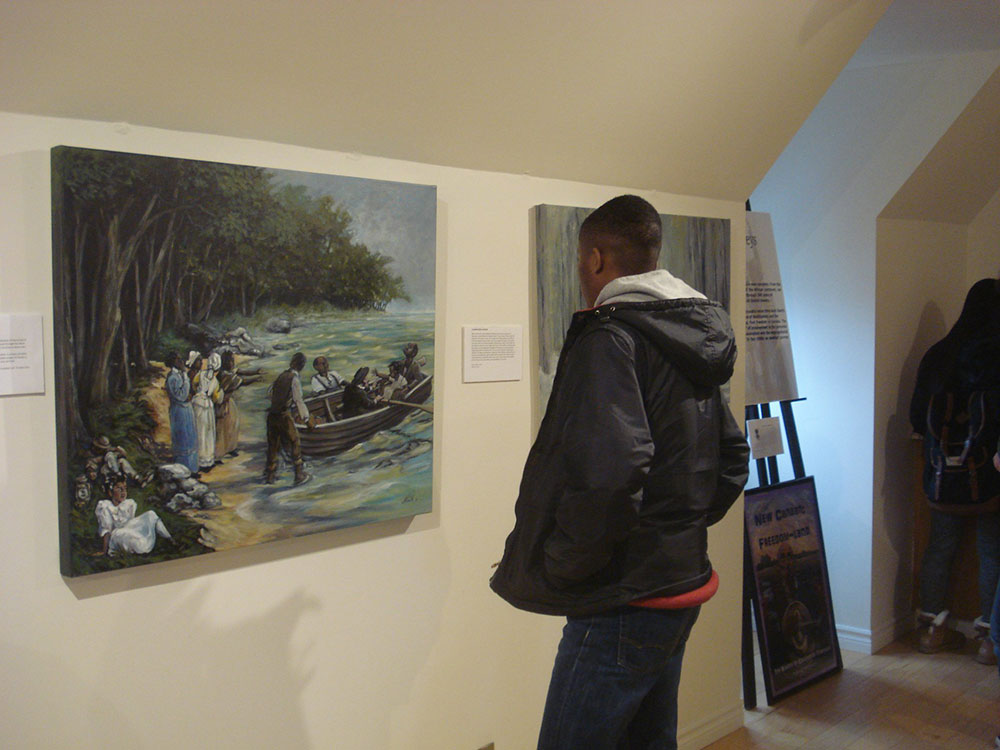 Temporary exhibits highlighting various areas of Black history are exhibiting both in the main gallery and the cultural center space on the 2nd floor of the museum. The museum also works with local groups to host temporary exhibits. For example the museum has once again worked in partnership with the Artists of Colour to host their exhibit 'Journeys' which opened in February 2020.
Community Displays & Outreach
Museum staff often create displays about topics of Black History that are exhibited in other community spaces in libraries, schools, universities and hospitals. The museum also participates in other community events to celebrate and educate the public on topics of Black History. For example, the museum has had a Black History Month display at both the Ouellette and MET Campus hospitals about Black Doctors, nurses and health professionals local to Windsor-Essex County.
The museum offers staff conducted and self-conducted research and genealogy. The museum fields many requests from around North America, which has been aided by the recent digitization of some of the museums archival collection.
Research is also conducted on an on-going basis by museum staff to present local family genealogies, and other local history that is made available on the museums webpage and shared on museum social media channels.